If you've been around here for a while, you already know how keen we are on the concept of a capsule wardrobe: a closet full of items that can be mixed and matched with one another for an infinite number of combinations and a permanent fix to your "I don't know what to wear today" conundrum.
Another winter has come and gone, and we're officially gearing up to face the first glorious days of spring; the ones where you walk outside and breathe a sigh of relief when you feel the warm breeze and sun shining. It also means that we're digging our spring wardrobes out of storage and swap our boots out for our sandals (and maybe get a pedicure on the cal). The bright colors, lightweight fabrics, and beautiful textures of spring fashion always feel like a reward after a long season of winter wear.
It's officially time to put winter behind us and welcome spring with open arms. The best way to approach getting dressed this season? Your wardrobe, simplified. 
What is a capsule wardrobe?
The simple definition is that it's a curated wardrobe made up of versatile pieces that you love to wear. Creating your capsule wardrobe should be a testament to your personal style
A capsule wardrobe consists of a set of tops, bottoms, dresses, outerwear, shoes, and accessories that can be easily mixed and matched together to be dressed up, down, and anywhere in between. It means your closet has less trendy pieces that will only be worn for one season and more high-quality, classic pieces that stand the test of time and can be worn for years to come. The best part? While it might feel more expensive in the moment, you'll actually save money in the long-run since you won't be going through so many fast-fashion pieces.
Once you master a starter capsule wardrobe, it can be curated and swapped from season to season. It makes it easy to pack up and take out clothes for the appropriate season because every time you pull them out, they're just as in style as they were at the time you bought them.
How to build a spring capsule wardrobe
The first step to building a capsule wardrobe is to take a good, hard look at what you already own, then purge the rest. We don't mean opening it and flippantly going through the hangers; we mean that you should take every single piece out of your closet, then evaluate if it should go back in. Don't forget to take a look at your shoes and accessories, too.
Then, sort each item into one of four piles:
I love it and would wear it tomorrow: These pieces fit your body, your lifestyle, and you're happy wearing them. Put these back first. 
Maybe: These pieces might not fit perfectly, have sentimental value, or you just can't put your finger on why you don't wear it more. (If you haven't reached for it more than once, it belongs in this pile too). Put all of these items in a box and store it in a place that's easily accessible. If you find yourself reaching for an item, put it back in your closet after; if you haven't reached for it by the end of the season, keep it in the box to take to donate. This is noncommittal (for now) and allows you to change your mind later.
Hard no: Whether it's because it doesn't fit or you just decided you don't like it, pack these pieces up to donate them.
Seasonal: There's no need to keep a cashmere sweater next to your summer tank tops. Move all of your seasonal pieces into a storage location that will be easy for you to swap out once the time is right.
Now, look at what's left in your closet and evaluate what your personal style is and what holes you have. Maybe you're completely set on jeans but could use a new jacket for spring. Now that you have a clear vision of what you'll be able to pair that jacket with, you'll make a better selection for what fits your closet. This doesn't mean you have to completely forego trend pieces and forever live wearing button-ups and jeans—it just means that when you do purchase trendier pieces, you know that they'll have a place in your wardrobe and that they'll get wear.
The Everygirl's Spring 2023 Capsule Wardrobe
How to style your spring capsule wardrobe
In need of some outfit ideas to create with your spring capsule? Look no further.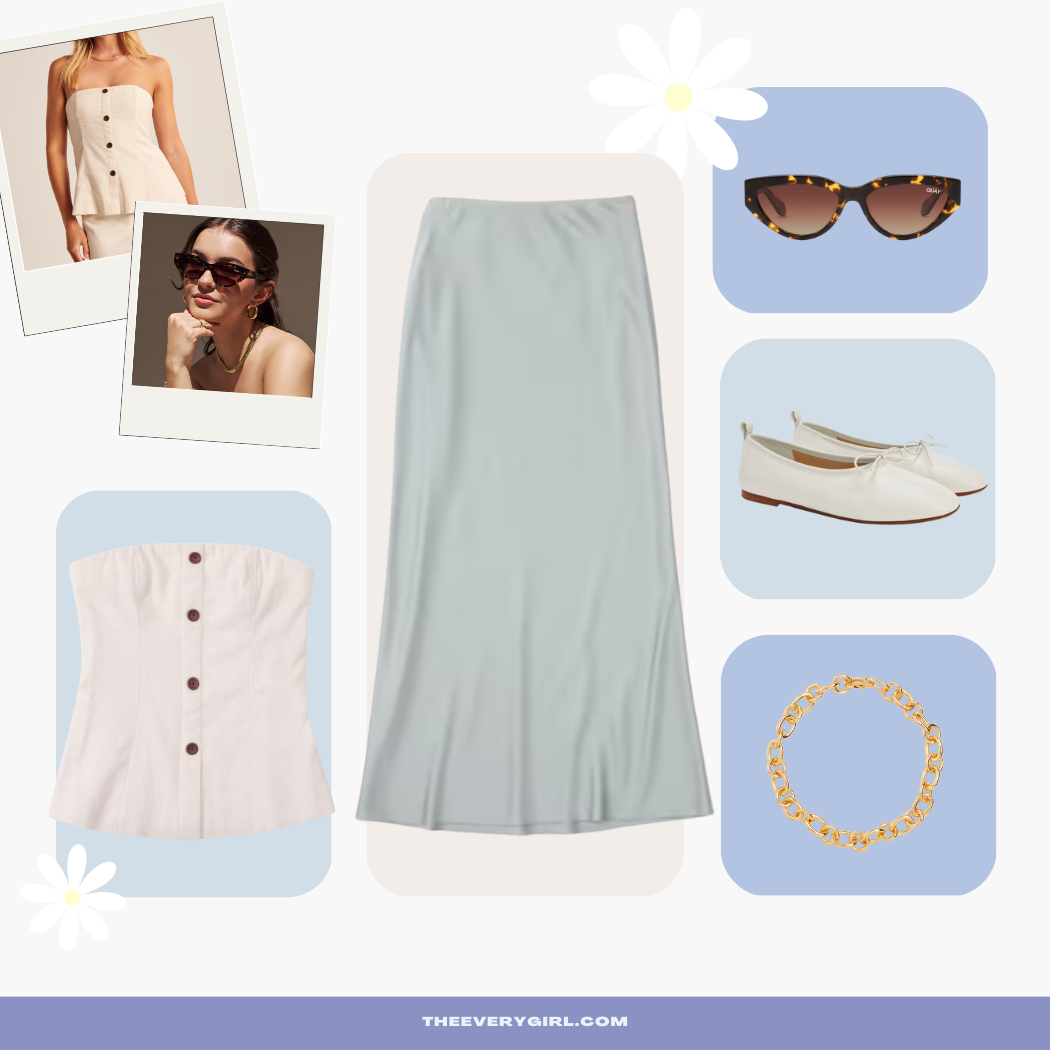 strapless top (plus) | satin skirt (plus) | sunglasses | ballet flats | chain necklace
This look is the epitome of a capsule wardrobe: It's totally classic, but since the pieces are modern and of-the-moment, it doesn't feel dated. For example, the sleeveless linen top is a staple, but the longer silhouette makes it feel fresh and now. Ballet flats are the definition of a closet staple, but also stand the test of time—see where we're going here? Together, they equal an elevated spring outfit perfect for a fancier brunch, date, or weekend day out.
crochet cardigan (plus) | heeled sandals | relaxed jeans (plus) | crossbody bag
For those chilly spring days where you need to dress warmly and layer pieces, but still want to feel seasonal, this floral-embroidered cardigan is a match made in heaven. Pair it with relaxed jeans and walkable, heeled sandals for an easy outfit you can turn to again and again. If it's extra chilly out, throw a long-sleeve shirt under the cardigan to make it extra-warm.
chain necklace | denim shirt (plus)| relaxed jeans (plus) | white tee (plus)| ballet flats
One of the best parts of a capsule wardrobe is that by mixing and matching your classic pieces strategically, you can style them to make them trendier for the season (without adding a bunch of trendy pieces to your closet). A denim shirt is a classic wardrobe piece you can wear in a variety of ways, but this spring, you should pair them with jeans in a similar wash and take part in the season's Canadian tuxedo trend. Top it off with a simple chain necklace and your favorite ballet flats.
knit tank (plus)| heart earrings | relaxed jeans (plus) | shoulder bag | heeled sandals
One of the best parts of spring dressing is that you can throw a tank top and jeans on and head out the door. This corset-style tank is uber-flattering, and when tucked into straight-leg jeans, will create a simple, seamless silhouette you can layer on top of or leave as-is. Make it work for a night out by adding a bag in a pop of color and chic statement earrings.
cropped blazer (plus) | floral dress (plus)| crossbody bag | heeled sandals
Headed out on a date? We'd be remiss to not suggest a sexy floral mini dress. With a bustier-style top, it's perfect for a dinner out on a spring night, especially when paired with heeled sandals. If it's chilly (or you want to be prepared if the temperatures change), layer a cropped blazer on top.