I Love Lululemon Activewear, But These 6 Amazon Pieces Are Just as Good
As a fashion editor, I have a lot of clothes, and I'm not exactly one to say no to adding something new to my closet. But one thing has remained true throughout my life: I absolutely hate spending money on workout clothes. So when TikTok started going wild with Amazon workout clothes that rivaled Lululemon, let's just say I was intrigued. 
I couldn't go through my afternoon scroll without another girl swearing that an Amazon piece was compared to Lululemon ones five times the price. And sure, that sounds great, but could it really be true? As someone who works out quite a bit, I'm a pretty harsh judge of workout wear, so I have stuck to my few tried-and-trues throughout my life.
I didn't want the pieces to just look the same—they had to perform the same too. So I finally bit the bullet and tried the pieces that I saw the most and gave them a spin on the Chicago lakefront trail to see if they really stacked up. Here's the verdict:
We Tried 6 Amazon Lululemon Lookalikes
These were the lookalikes I was the most excited to try because of all the workout clothes I own, I am by far the most harsh on leggings. There are few things I hate on this earth more than leggings slipping while I'm on a run, and if that happens even slightly, they're out. 
When I took these out of the package, I hoped to God they'd pass the run test because they are incredibly soft. Anyone familiar with Lululemon Aligns know that they're a material that's pretty hard to beat, but these felt very, very similar. After taking these for several runs, I can say that these absolutely pass the dupe test. While they're a bit thinner than Aligns, I had absolutely no issues with them slipping, and they hugged me in the right places without being too constricting. 
Looks-wise, these are also a 10. I find ankle-length leggings the most flattering, and these are some of the best I have put on. They have a seamless effect that makes them look eons more expensive than they are, and I found that when I had just done laundry and all of my leggings were clean, these were the ones I reached for first (which is how you really know). I'm planning on picking these up in several more colors.
Sizing
True to size (wearing a size small)

I have a confession: I do not personally own an Align tank, as I have never been able to muster shelling out $70 for a workout tank. However, I did stop by my closest Lululemon to feel the material of them for comparison, and this felt very similar.
After staring at the Align tank and this one, there are very few visible differences. Are they exact? I obviously can't tell you, but I would buy 15 more of this tank top just for being absolutely fabulous on its own. It is so flattering, and despite having a medium-ish chest, I found that I could run in this without an additional bra under and feel totally comfortable.
This tank comes in incredible colors that serve as motive to buy one all their own, so I also picked it up in pink and blue after trying it. I can't tell you how to spend your hard-earned cash, but I'd highly recommend ditching the Lululemon one and buying four of these for the same cost.
Sizing
True to size (wearing a size small)
I'm a sucker for a workout jacket and the confidence they give me the second I put one on. They're just flattering and make you look like a person who really has it together—something I try to trick people into thinking every chance I get.
I wear my workout jackets a lot given that the Chicago temperatures are absolute hell except for about 12 weeks of the year, so I wear one multiple times a week. I am completely in love with this one. Not only do I absolutely love the color (which is slightly more purple than the mocha that was advertised, which I'm not mad at), but it also has the same high-quality thickness that you'd get in a Lululemon one. Again, I feel no differences both in looks and in feel and am so happy with this.
Sizing
True to size, but if you're between sizes, size down (wearing a size small)
I had initially ordered these shorts in a size small (which is my usual size), and they were doable but quite small on me. However, after I exchanged for a medium, I absolutely love them.
I definitely like my running shorts a bit looser, and these are perfect. I love the wider waist band and how they're a bit baggier without having too much fabric, and the lining on the inside provides coverage without being too tight or annoying. They survived a treadmill run with no annoying bunching or chafing, but I would also pick them up for their look alone. In the summer, I constantly have running shorts and a T-shirt on, and these fit the bill. 
Sizing
Runs small—size up one size (wearing a size medium)
I previously was extremely anti-bike short on myself, as I felt like they were so deeply unflattering that I never reached for them—until I realized I was making a huge mistake: I just needed shorter ones.
I so prefer this length of bike shorts, as they aren't so short they feel like volleyball Spandex but are much more flattering on me than longer ones. Oh my lord, do I absolutely love these. They're that same buttery-soft material without being flimsy, and the seamlessness of them made me fall in love with how they looked immediately. Though I don't find these to be a dupe, I do like them specifically for lounging. I find that when I exercise in them they tend to roll down a bit, but for an off day with an oversized tee, they're my favorite bike shorts to reach for.
Sizing
True to size (wearing a size small)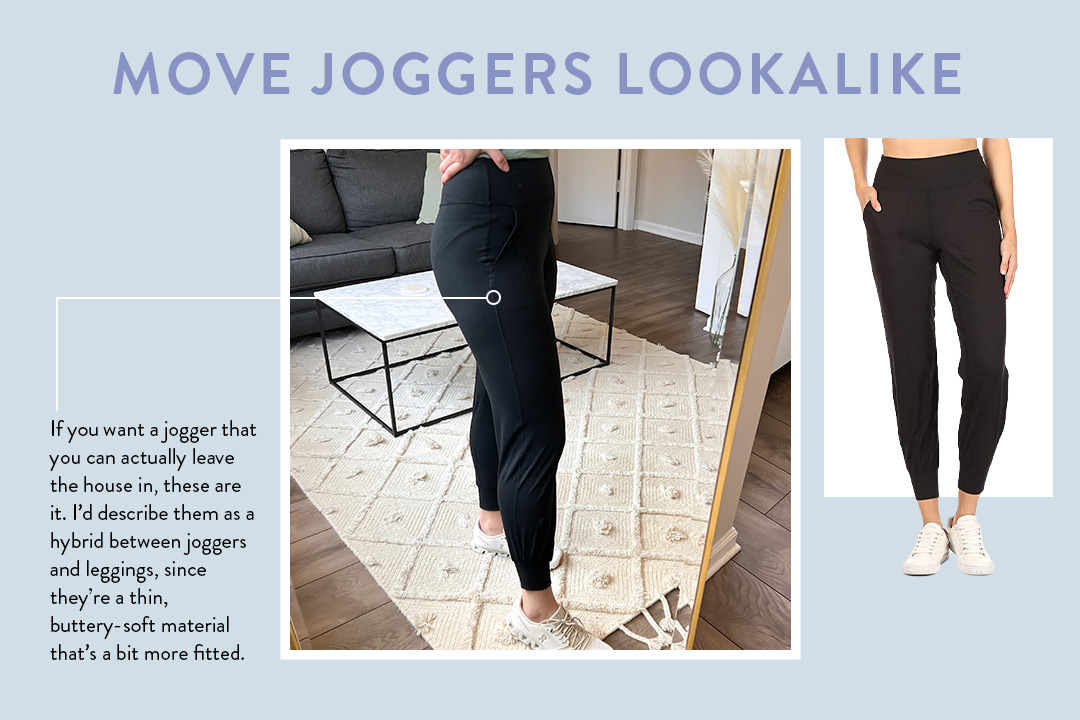 I've seen women in these joggers on my Instagram for years, and I finally get the hype. If you want a jogger that you can actually leave the house in, these are it. I'd describe them as a hybrid between joggers and leggings, since they're a thin, buttery-soft material that's a bit more fitted. 
While these joggers have a thinner material, they are not so thin that they feel cheap or see-through, and I truly would think these were the famous Lululemon ones if you made me guess. I love how confident I feel in them and already got my mom to order a pair. I love these as a more put-together option for working from home than my regular joggers, too.
Sizing
True to size (wearing a size small)