Anyone who's ever hosted a wine and cheese night for the gals or volunteered to make the charcuterie board for a gathering knows that Trader Joe's cheeses are some of the best in the business. The affordable prices alone are enough to make your trip down the Trader Joe's cheese aisle worth it, but it's the huge variety (including standout blends you can't get anywhere else) that makes us never want to shop for cheese anywhere else again. The only problem is, with so many options to choose from, picking the perfect variety for your cheese board (or general snacking needs) is no easy feat. But luckily for you, we did the hard work for you and put some of the best Trader Joe's cheeses to the test to see how they compared.
From cult favorites like Trader Joe's bread cheese to newcomers like their caramelized onion cheddar, we tried as many varieties as we could stomach and ranked them from worst to best. Read on to see which Trader Joe's cheeses have earned a permanent spot in our refrigerators and which ones we probably wouldn't buy again. 
The Best Trader Joe's Cheeses, Ranked
OK, before we begin, full disclaimer: Although we are self-proclaimed cheese groupies who have consumed an impressive amount of cheese in our lifetimes, we are by no means cheese experts. So if you're looking for a review with descriptive cheese vocabulary such as yeasty, grassy, nutty, or funky, we regret to inform you that this is not that. We can tell you, however, whether we, as average people who enjoy cheese, would buy it again. Now let's get this show on the road.
12. White Stilton Cheese with Apricots
Pairing cheeses with jam or fruit is typically a win in our book, so we really thought Trader Joe's was on to something with this mash-up. But sadly, we are here to report that this one just didn't do it for us. It was overwhelmingly fruity and had a weirdly bitter aftertaste. As far as we can tell, however, the rest of the internet didn't hate it, so maybe it's just us but we'll pass on this one next time. 
11. Port Salut Semi-Soft Cheese
Trader Joe's Port Salut Cheese landed in our No. 11 spot, but let us preface this by saying: This cheese is not bad. It's just pretty darn plain—which might be what you're looking for, especially if you're assembling a cheese board that has a lot of bold flavors. Standing alone, this soft, creamy cheese didn't particularly stick out, but it was definitely a safe option especially if you prefer a mild cheese that's not necessarily the star of the show.
10. Italian Truffle Cheese
If you like anything truffle, you need to try Trader Joe's Italian Truffle Cheese immediately. Seriously, stop what you're doing and run (do not walk) to add one of these to your cart. Truffle can be a bit polarizing because the flavor is often overwhelming, but we must say that this cheese did it right. Standing alone, the truffle cheese flavor lingered just a bit longer than we typically like, but we recommend eating it with a Fig & Olive Cracker and/or some grapes to quickly resolve this minor problem. 
9. Blueberry Vanilla Chevre
If we could rewind to the first time we tried the cranberry version of this Blueberry Vanilla Chevre, this would probably be higher up on this list, but even so, this cheese is still so tasty. If you've never been a huge fan of goat cheese, we recommend working up to it starting with this fruity version, which can be described as a cross between goat cheese and a blueberry cheesecake. It's a great transition cheese that even non-goat cheese lovers will love, and until the cranberry version returns (please, Trader Joe, bring it back!), this is a solid substitute. 
8. Pizza Bread Cheese
We are no strangers to the internet hype Trader Joe's Pizza Bread Cheese has received since it was released last year, so we knew we had to try it. But upon opening it, our biggest question was: How are you supposed to eat this? The package recommends heating it up in the microwave or a pan on the stove, which seems like a lot of work for cheese. Eaten cold, it tastes like what you'd get if you pulled the slab of cheese off a piece of leftover pizza, which was by no means a bad thing. Heated up in a toaster oven for a few minutes, it was very tasty, and with a bit of marinara sauce for dipping, it was downright delicious. Overall, we'd eat this cheese again—but likely as a late-night snack when we're craving some comfort food instead of on a cheese board. 
7. Cheddar Cheese with Caramelized Onions
If a block of cheese and an Outback Bloomin' Onion had a love child, Trader Joe's Cheddar Cheese with Caramelized Onions would be it. This bold, sweet-and-savory cheddar brought us all the comfort of devouring some fried-to-perfection onion rings—but in cheese form.  The caramelized onion flavor is pretty intense, so we couldn't imagine eating the entire block in one sitting, but that isn't exactly FDA-recommended anyways. If you're looking for a switch-up to your average cheeseboard staples, this is it.
6. Unexpected Cheddar Cheese
Trader Joe's Unexpected Cheddar Cheese is a long-time customer favorite and for good reason. It presents itself like aged white cheddar, looks like cheddar, and tastes like cheddar—until it doesn't. The "unexpected" part comes in when you get hit with that hint of parmesan that is oh-so-delicious and the perfect surprise. You know, like when you unknowingly hit up your favorite retail store in the middle of a 40 percent off sale. This cheese is versatile, absurdly affordable ($3.99 per package), and an absolute staple in our households.
5. Asiago Cheese with Rosemary and Olive Oil
OK, now we're getting to our top five, which we will also lovingly label as "standalone cheeses we could eat in one sitting." We'll start with the savory dream that was this Asiago Cheese with Rosemary and Olive Oil. The rosemary made it feel a little bit earthy which somehow perfectly complements the asiago flavor. We have nothing but good things to say about this stuff and will 10/10 be buying this the next time we need to slap together a homemade cheese board.
4. Alpeost Cheese
Alpeost Cheese is a relatively new addition to Trader Joe's cheese selection and, man, is it a good one. There are no interesting or exotic flavors to this one, but that exact reason (and because the cheese itself is just so delicious) made it one of our new favorites. We truly hope this one sticks around because this would be the perfect staple cheese to have in the fridge for just about all of your cheese-related needs. 
3. Toscano Cheese with Black Pepper
This peppercorn Toscano cheese is everything, so it's no surprise that it was sold out the two first times we tried to get our hands on it. It tastes like a mix of cheddar and parm and is truly a gift from Trader Joe himself. We were initially skeptical that the pepper coating would be a bit overpowering, but we can promise you that TJ's nailed it with this one.
2. Syrah-Soaked Creamy Toscano Cheese
Speaking of Toscano cheese, allow us to introduce one of our tried and true, all-time favorites. We have been known to recommend this cheese to anyone who will listen, so we already knew it would be at the tip-top of our list of best Trader Joe's cheeses. The texture is creamier than the Black Pepper Toscano Cheese (perfect for spreading on crackers), but it still has that cheddar/parm flavor we absolutely love. This Syrah-soaked cheese is a crowd favorite that will be a hit at any gathering where you want to feel a little fancy.
1. Old Amsterdam Premium Aged Gouda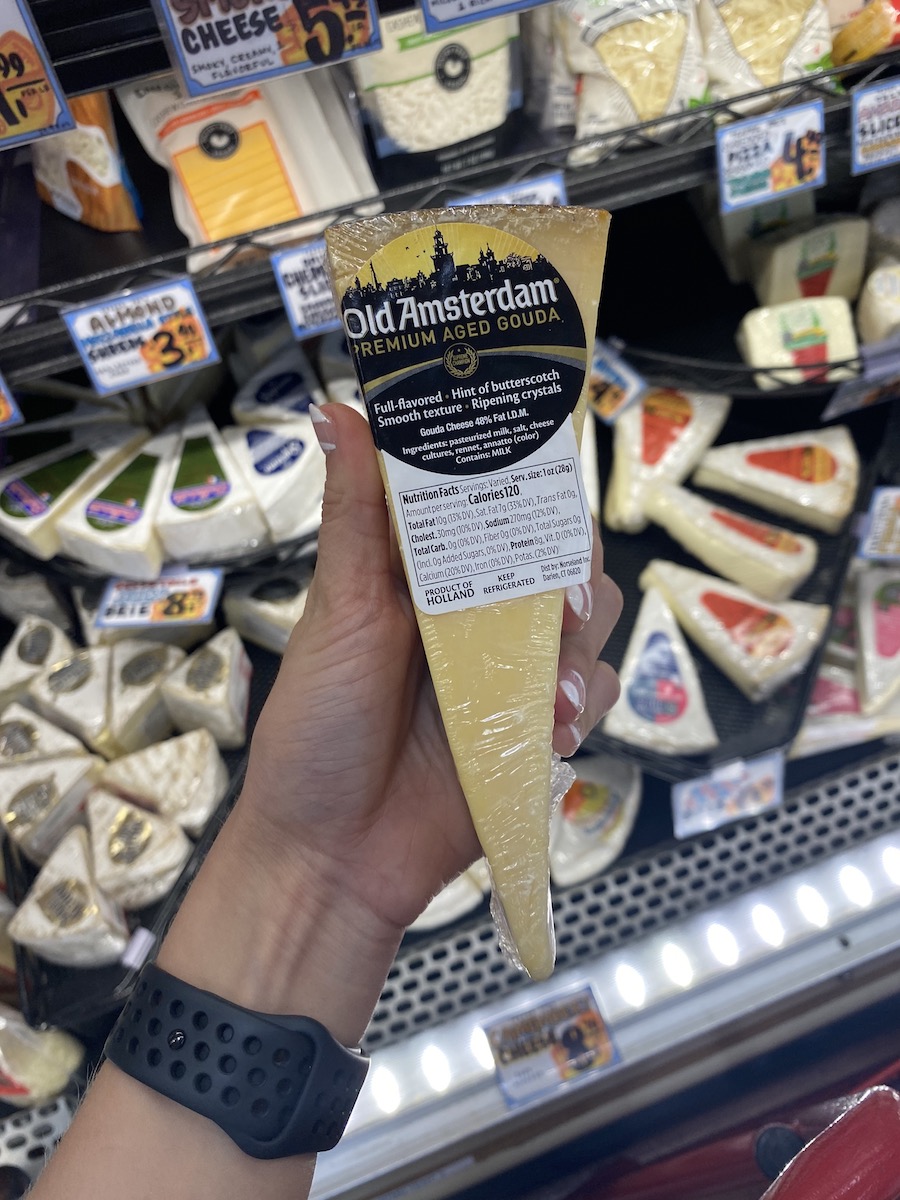 Add this Old Amsterdam Gouda to the list of "Things We Didn't See Coming in 2023." It's been around for a bit, but after trying it for this test, we must say: oh my God. This cheese easily took the title of Our All-Time Favorite Trader Joe's Cheese, and it's not hard to see why. This gouda cheese is smooth with crunchy crystals, full of flavor, and an exquisite mix of savory and sweet. We seriously don't know how we lived without this stuff.